Tile Backsplash
The use of backsplash tile is one of the fastest ways to bring new life to an old, tired or just boring kitchen while also helping to make kitchen cleaning chores faster and easier. If you are looking at sprucing up your kitchen and want to keep the cost reasonable, a tile backsplash can be an awesome way to achieve a lot of impact, with only a small investment. At Portice Carpet One Floor & Home, we not only have a wide selection of tile to choose from, but we also have local experts who can give you design advice for your remodel.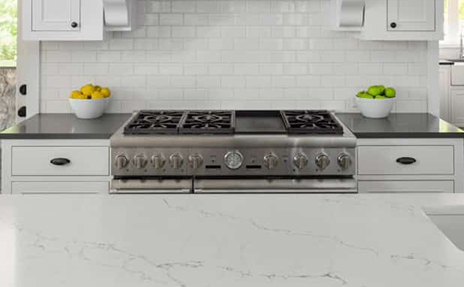 Custom Backsplash
Gone are the days of the dull, white tile backsplash behind the kitchen sink and in its place kitchen designers and homeowners alike are using a variety of colors, textures and shapes to create eye-catching, durable pieces of art. If your kitchen cries out for drama or an exciting focal point, consider using tile in multiple colors, shapes, and sizes to create unique designs behind the sink, kitchen stove and other high use areas in the room, such as the baking center or wet bar.
Durable Protection
If you want to keep your walls looking spick and span, a tile backsplash is an excellent option. Shielding walls from spills, stains, and mishaps, tile protects the area by keeping it covered. In addition, tile isn't likely to crack or chip even on the days where constant chaos occurs.
Easy Maintenance
A new tile backsplash makes cleaning up a breeze. Instead of worrying about the possibility of ruined tile, know that a tile backsplash can be wiped easily. Grout lines can be scrubbed often if necessary, though they don't require heavy maintenance on a day to day basis. Overall, tile is a material that is easily maintained whether you have a lightly or frequently used space.
At Portice Carpet One Floor & Home in Lakewood, we are proud to provide backsplash tile to West Denver and surrounding areas.