Pet Friendly Flooring
Pets are an important part of our families, and that means for many of us, finding a floor that's the right fit for the entire household is a nonnegotiable. At Portice Carpet One Floor & Home, we understand this pressing need: that's why we carry an impressive inventory of soft-surface and hard-surface flooring that's safe to use with pets and children, and is also gentle on the planet. Water-resistant flooring means you'll spend more time enjoying playing with the kids, or tossing a ball to your puppy, and less time stressing over stains that might occur. With so many wonderful possibilities to consider for your home, you'll never feel like you're settling for less, design wise. Today's pet-friendly flooring is made for both function AND fashion.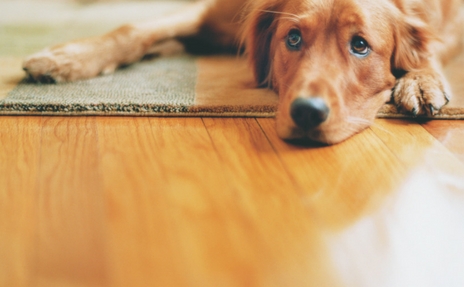 Pet Friendly Waterproof Flooring
Life with a houseful of kids, dogs (and, let's face it, adults) can be anything but tidy. Let's face it, though: you wouldn't have it any other way. The great news is that today, there are more waterproof flooring options than ever before. Made with the entire family in mind, there are luxury vinyl planks and tiles that can truly handle it all. Of course, since many of these options feature the convincing visuals of hardwood, stone, or tile, your new floor will look great in doing so. One of our many amazing options is Invincible H20. This breathtaking flooring is tough as nails, with designer-inspired looks.
What is the Best Carpet for Pets?
Gone are the days when carpet and a new puppy were considered a lethal combination. Now there are plenty of soft, stylish, and completely stain-resistant carpets made with pet owners in mind. Equipped with the latest stain-fighting technologies, pet-friendly carpets make cleanups a breeze. One of our favorite brands of this carpeting is Resista SoftStyle. This amazing family of products is not only designed for simple stain wipe-ups: it's also backed up by a 10-year "No Exclusions" stain warranty!
At Portice Carpet One Floor & Home in Lakewood, we are proud to provide pet friendly flooring to West Denver and surrounding areas.